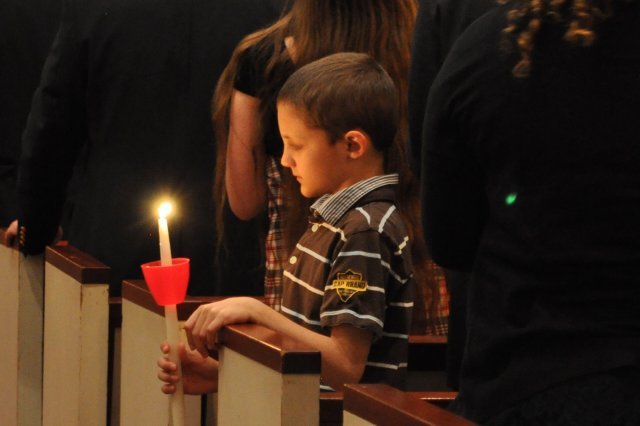 WELCOME TO ST. GREGORY'S:
COME RECEIVE THE LIGHT!
Witness the 4th Century Divine Liturgy in
English Every Sunday 9:30am
God is real and we are blessed with His Holy Presence.
+As Orthodox Christians we are the oldest and second largest Christian denomination in the world.
+As a visitor to an Orthodox Christian Church you are encouraged to attend services and pray with us as we experience the sacredness and profound prayers of the Divine Liturgy from the 4th Century each week.
+Please visit and join us in a wonderful experience of faith where God dwells with people and our Church continues to follow the unaltered faith from Christ and the Apostles.
Come and pray with us; we look forward to meeting you!
Click here to join our email listserve to receive our weekly newsletter from St. Gregory's.


---
Services Schedule
Sundays: Orthros (Matins): 8:15 AM | Divine Liturgy: 9:30 AM
Children's Religious Education begins immediately following Holy Communion during the school year.

Weekday Feast Days: Divine Liturgy: 9:30 AM
Lenten Schedule:
Monday: Great Compline 6: 30pm
Wednesday: Presanctified Liturgy 6:30pm
Friday: Akathist Hymn to the Theotokos 6:30pm
Saturday: Saturday of Souls 9:30am
Holy Week Schedule:
Palm Sunday Evening Bridegroom Service: 6:30pm
Holy Monday Bridegroom Service: 6:30pm
Holy Tuesday Bridegroom Service: 6:30pm
Holy Wednesday Unction Service: 6:30pm
Holy Thursday Liturgy (Last Supper): 9:00am
Holy Thursday Service 12 Gospels: 7:00pm
Holy Friday: Royal Hours 8:00am ; Vespers 3:00pm ; Lamentations 7:00pm
Holy Saturday: Liturgy 9:30am; Resurrection Orthros and Liturgy 11:30pm
Pascha Sunday Agape Vespers: 11:30am
---
For more information please contact the Church office at (508) 337-9986 between the hours of 9:00 AM - 2:00 PM, Tuesday through Friday.